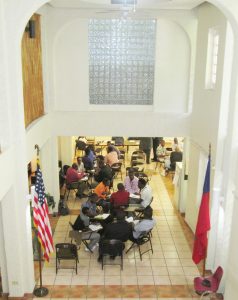 A workshop titled Best Practices for ELL in the Classroom was conducted on Thursday, June 8, 2017 at the Haitian-American Institute.  Its goal, among others, was to keep HAI teachers abreast of the latest techniques and approaches to English Language Learning/Teaching.
The very first presenter was Mrs. Deslandsheer who presented Classroom Management. She provided the attendees with sound advice and useful tips on techniques which can be used in the classroom to keep a balance between a fun setting and a controlled environment.
After Mrs. Deslandsheer's presentation came Mrs. Dumesle's presentation on Making the Materials Interesting Via the Password Game. After offering her services as a regular teacher for more than 38 years at HAI, Mrs. Dumesle is now a permanent trainer whose job it is to train pre-service and in-service instructors.
Mrs. Dumesle's presentation came before the feature presentation of the day Making Learning Sticky: Best Practices For Brain-Based Learning by Mr. Hersey. This was followed by a one-hour lunch break at the D-licious Snack Bar where participants enjoyed eating the meals cooked by our kitchen staff.After the break, the teachers took turns doing five-to-ten-minute presentations in which they shared their views and techniques with their peers.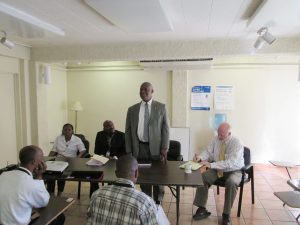 We ended the workshop with a quiz on HAI, which was an innovative way of testing the teachers' knowledge about HAI and its rules and regulations. Also, the quiz tends to help teachers who need to answer questions about the different programs we offer at the Institute. It was very well received and the winner was Mr. Simon who has been teaching at HAI since 1994. He was given a big box of chocolate candy which he shared with all the other participants.
All in all, this workshop was successful because all the employees cooperated with one another.  I acknowledge Mr. David's suggestions and recommendations, Mr. Hersey's liaison work, the kitchen staff for the catering service, the maintenance staff for their elbow grease, the computer lab for their technical support, the security department for its vigilance, and the Academic Office for coordinating the work of all the departments.
–Mr. Kenel Joseph, Port-au-Prince, Haiti