On Thursday, April 26, 2018, HAI President Mrs. Convery, Director General Mr. David,
Head of Academic Department Mr. Joseph,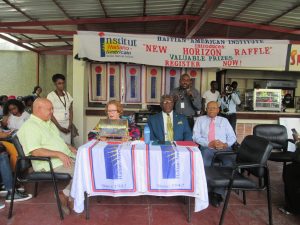 distinguished Member of the Board Dr. Mathurin, and honored guest Mr. Joel Trimble conducted the first ever New Horizons Raffle at the Haitian-American Institute.  The raffle came together smoothly and was initiated to honor the Haitian-American Institute's 76th year of  service to the community.
First place winner received a Chromebook laptop computer.  Second place winner received a full scholarship for the July session.  Third place winner received a 3,000 Gourdes meal voucher for the D-Licious Snack Bar & Kitchen.
Congratulations all!