The second annual teacher's workshop was held at the HAI in the beginning of June as part of a yearly event to hone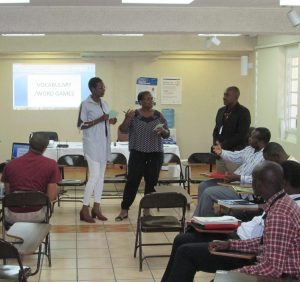 the skills of the  Haitian-American Institute's "finest of the fine," as HAI President Mrs. Convery refers to the teachers of the oldest established English language institute in Haiti.
Much effort was put into the planning, organization and execution of the workshop, entitled LET'S GET BETTER FOR A BETTER HAI, and which was led by HAI Academic Head Mr. Kennel Joseph.  Many topics were covered, including grammar, method, and other stimulating and diverse activities.
During the first 45 minutes of the workshop, Mr. Joseph did three fun activities related to pronunciation. From 10 a.m. to 11:30, the teachers were grouped acccording to the levels they usually teach and were tasked with changing or making changes to some exams. From  11:45 a.m. to 1 p.m., the teachers were tasked with writing a syllabus for our SPOKEN ENGLISH and PRACTICAL ENGLISH CLASSES. Also, the interview questions at the end of these classes in lieu of final exams were prepared and standardized so as to serve as guidelines for any other teachers willing to teach them. At the end of the workshop, teachers took turns sharing with their peers some vocabulary and grammar games.
It was a successful workshop. Mr. Joseph could not have been any happier for its success.