Port-au-Prince, January 31, 2019
Reported by Mr. Kenel Joseph, Head of Academic Department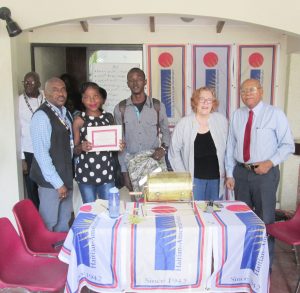 As scheduled, the NEW HORIZONS RAFFLE drawing took place on Thursday, January 31, 2019. It started exactly at 12:15 and ended at 12:50 p.m. Yes, it lasted about 40 minutes, with lots of suspense at the very beginning. We began with the third prize and it took us about 20 minutes to find the lucky winner. Fifteen tickets later, the third prize winner happened to be ROSE MANUELA JOSEPH who received an LL BEAN BACKPACK. The second prizewinner is BITHIANA SIMBERT who got an LL BEAN DUFFEL BAG and the first prize winner is KETSIA SCHABBATAELLE LOBINOIS who got a full scholarship for the 2019 April session.
The host of the show was Bapthol Joseph, an HAI teacher and the lady keeping track of the ticket numbers was Francoise Augustin, another HAI teacher. Standing next to HAI President Mrs. Convery is the vice-president Dr. Jean Robert Mathurin and at the other end is yours truly. All's well that ends well.
Getting ready for RAFFLE # 5 which will probably take place on SATURDAY, APRIL 27, 2019 AT 12:15 P.M.