Beginning with the first session of 2020, Spoken English and Practical English are being offered in one class that students can complete within four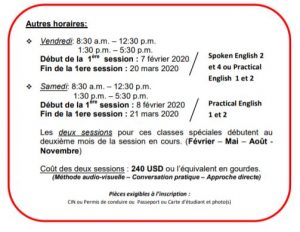 months, or two sessions.  Weekly class hours will total eight.
This new Weekday class begins 3 February 2020 and ends on 19 March 2020.  The new Weekend class begins on February 7 and ends of March 21.  Students may choose any day–Monday, Tuesday, Wednesday, Thursday, Friday or Saturday–to take this class.
Weekday Class Times:
9:10 – 11:05 a.m
10:10 a.m. – 12:05 p.m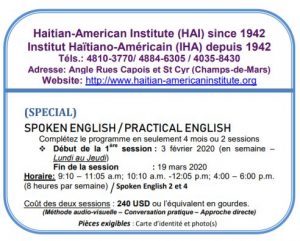 4:00 – 6:00 p.m
Weekend Class Times:
8:30 a.m. – 12:30 p.m.
1:30 p.m. – 5:30 p.m.
Tuition is $240 USD, which covers the cost of both sessions.  Registration is open now for this class.