It's Thursday, February 13th and time for a Practice Session with many classes participating together in a fun-filled, challenging setting to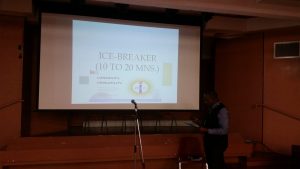 utilize what everyone has been learning–namely, English!
The PowerPoint slide to the right is part of the presentation guidelines for the groups to follow.  Do you know the definition of ICEBREAKER?
According to the Free Dictionary online, it is:
a. 
Something
done
 or 
said
 to 
relax
 an 
unduly
formal
atmosphere
 or 
situation.