Thursdays, late in the session, are usually buzzing with more activity than usual at the Haitian-American Institute.  That's because all of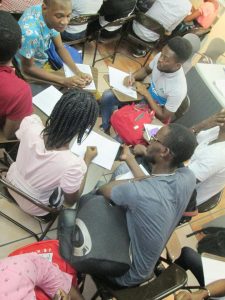 the students, from beginning to intermediate to advanced, gather in the Auditorium and the Grand Hall to practice English AND have fun.  Activities range from telling a story, to singing a song, to enacting a skit.
While the beginning students gathered in the Auditorium with Mr. Joseph, Head of the Academic Department, the intermediate and advanced students were also practicing English in the relaxing and fun atmosphere of the Grand Hall. The show was hosted by Mr. Jean Pierre who did his best to involve and engage the students in various activities from 9:10 to 12:05.