In 1942, Haitians and Americans founded a bi-national center to reinforce friendship and cultural ties between their two countries. Located in the heart of Port-au-Prince, the Haitian-American Institute has enjoyed decades of continuous community service and remains faithful to the ideal of its founders.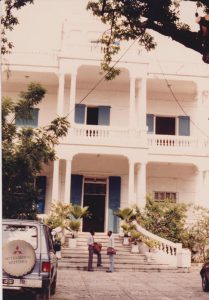 The Haitian-American Institute itself stands on a landmark site. The original building was the house that once belonged to former Haitian President Elie LESCOT. This building, pictured, was destroyed in the January 12, 2010 earthquake.
Today the Institute is preparing a new generation of students for the times. Our Testing Center and Computer Lab are evidence of our commitment to providing up-to-date technology to help students further their goals. To accommodate our growing student body, we began building a new Classroom Annex III in March 2009 which was completed in a nine-month record-breaking accomplishment in December 2009. The building was inaugurated on January 7, 2010.
After emerging from the devastating effects of the 2010 earthquake, the Haitian-American Institute resumed classes on May 3, 2010.  Since then, we have re-built the Martin Luther King, Jr. Library and Learning Resource Center, added a popular snack bar and bookstore, and provided an inspiring place for teachers to meet and connect in the upper pergola.
In short, the HAI is a dynamic place for dynamic people.