Course Snapshot:  — 4 hours per day / 1 day per week (Saturday)
The English for Tourism course is a nine-month program designed to hone the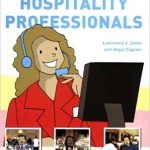 English skills of the students in the hospitality sector.
The program covers the basics in the first three months with the textbook EVERYDAY ENGLISH FOR HOSPITALITY PROFESSIONALS; the ENGLISH FOR TOURISM book is used for the next six months in the Intermediate and Advanced levels.
At the end of the program, the best students may be selected for hands-on

training sessions in the United States, made possible by a partnership between the Haitian-American Institute and Frenchman's Creek Beach and Country Club in south Florida.
Students who already have a degree or some type of certification in the Hospitality sector will have to spend only six months at HAI for the English skills. Other students can join in , but they will have to spend at least twelve months.
If you are a student in a hotel school or an employee in a hotel, this English course is for you.
Classes are held on Saturday from 8:30 AM – 1:00 PM
DURATION:  6-12 months
TUITION:  $275 USD