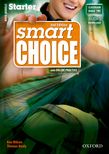 The HAI Young Adults Program is appropriate for youthful students who want to learn English in an engaging, dynamic setting.  Geared for young adults ages 10 through 16, there are two variations to choose from, depending on the time of year.  During non-summer months, there is the Saturday Young Adults program which offers a 3-hour class every Saturday.  During summer months, there is a Summer Weekday Young Adults program.
In addition, there is a Saturday Younger Adults Program geared for children aged 8 to 10.
The Young Adults Program uses the Smart Choice Second Edition textbook, whereas the Younger Adults Program uses the Let's Go textbook.